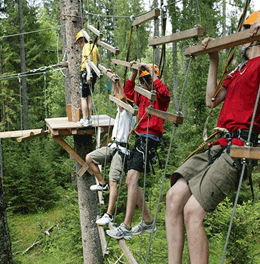 Filling your days with things to do is so easy! Guided or self guided activities, swimming lakes, relaxing spas plus much, much more. Here are just a few suggestions to fill your days in the Austrian alps when staying at Haus Susanne..
A climbing activity fun for all! High Rope climbing centres are very popular in our area. The courses are a leader-led group activity which take you through a climbing parcour. Each course is run by a local activity centre. Schladming's course is set at the top of the Planai mountain.
Radstadt's centre is a via ferata course set against the valley mountain side. This course features a huge spider's web, rickety bridges over the ravine and an abseil or flying fox down the cliff face. Flachau has a course set near the town, close to the gravity coaster and segway. Flachauwinkl's course is beside the swimming lake featuring a flying-fox accross the water. Altenmarkt's is set in the valley forest enroute to Zauchensee.
The Austrian's love of sledging doesn't stop in the winter! After a towe up the mountain the gravity coasters zoom down as fast as you dare! The coasters are built into the side of the mountains at Rittisberg and Flachau.
SUMMER SKIING
Some guests always need their winter fix in the summer! Summer skiing is available on two nearby glaciers. Our most local glacier is the Dachstein Glacier near Ramsau. This glacier is often the summer training ground for many world cup cross-country skiers. The glacier also has a fun park and a pisted area.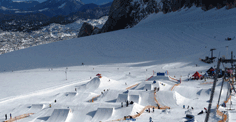 The second glacier in Land Salzburg is at Kitzsteinhorn. This is a much larger glacier with a fun park and a larger ski area. Both areas have variable opening times, so please check before you visit! Visit the sights and cities page for more info about the summer events and activities available at Dachstein.
Haus Susanne
Gappenau 16
5550 Radstadt