Full day hikes, valley walks and lift assisted ascents are all available in our surrounding area. Days can be spent wandering around the local trails. Routes are graded and many are buggy friendly.
key points
hundreds of marked routes
start from the doorstep
summer mountain lifts
valley and mountain hikes
clearly marked routes
local guided walks
beautiful mountain huts
family routes with parks
buggy friendly trails
packed lunches available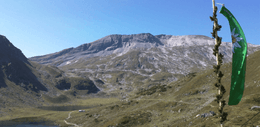 There are so many hiking routes accross Land Salzburg it is far too big a job to summarize them all here! All of the trails are clearly marked, not only with direction but also difficulty and expected duration.&nbsp &nbsp Walks and hikes can start from Haus Susanne or many other local areas from the valley or by driving further up the mountain or by using the summer lifts. Many areas have been designed with families in mind featuring activities like the 'Ghost Mountain' with play centres, parks and land-trains all enroute. Many areas are also buggy fiendly so everybody can enjoy the mountains!
Haus Susanne
Gappenau 16
5550 Radstadt